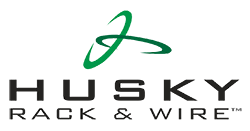 Air Engineering and Supply adds new line of guarding and partion line from Husky Rack and Wire, one of the largest producers of material handling products in the country. The Husky Guarding Product line has easy installation feature and provides for secure enclosure for commercial and industrial applications. And the Husky EZ Wire Product line is quick and easy to install, even for one person.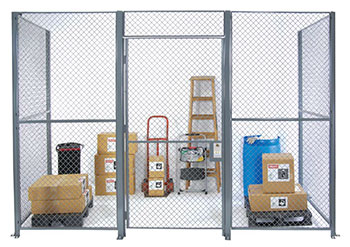 EZ Wire
EZ Wire® is the patented "no nuts and bolts" security wire partition system designed to be the most economical and secure system in the industry. The EZ Wire® hook-fastener system makes installation up to five times faster than standard bolted systems.


EZ Wire Product Guide
(2 MB PDF)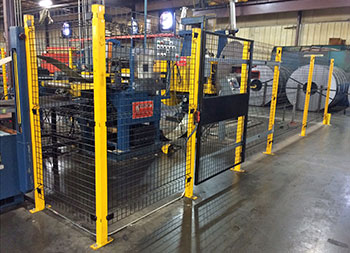 Bolted Wire
Bolted Wire® security enclosures make loss prevention and access control easy to implement and incredibly affordable. The complete Bolted Wire system makes it easy to rearrange or expand enclosures in plants, warehouses and other commercial and institutional applications. The leading solution for both permanent and temporary installations. Installs five times faster than standard bolt systems and provides the highest level of security.


Bolted Wire Product Guide
(2.3 MB PDF)
---
Order the New 80/20 Catalog 21 with 28 New Stock Profiles!
Grab your free copy of 80/20's catalog 21. You'll find all of the new profiles and products included with detailed specifications. Based on your feedback we also added in the fastener strength tests to help with your design and build process. Product pages have been revised to provide even more detailed information.
---

Updated 80/20 AutoQuoterX™ II Now Available
AutoQuoterX™ II has been updated with design files for all of the new profiles as well as several additional products. Download this latest version today and start designing.
---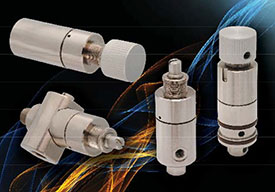 New Clippard DR-2 Precision Miniature Regulator Series
When Clippard invented miniature regulators in 1962, the MAR Series became very popular as a simple, robust, and cost-effective regulator in a small package with exceptionally long life. As regulator applications continue to increase, Clippard is meeting the demand with the newest addition to the reputable regulator line. The new DR-2 Series provides greater accuracy and repeatability while maintaining the same flow and performance characteristics as the MAR regulators in a durable, sleek package.
---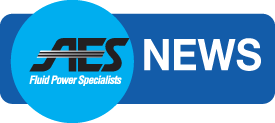 The latest employee news at Air Engineering and Supply
Air Engineering and Supply is pleased to announce that we have hired an Inside Sales person, Fares Mustafa. Fares is entering his second year at Hennepin Tech Fluid Power Program and we will be working with Fares to allow him to finish his schooling. Fares will help us meet, and exceed, the goals and objectives of Air Engineering and Supply.
---

Download PDF (1.8 MB PDF)
Air Engineering and Supply publishes new line card and value added capabilities brochure.
Large Local Inventory with same day shipping on 1000's of items
Partnering with customers to manage inventory levels
Pneumatic Value Added/Kitting, Sub Assembly & Complete Assembly
80/20 Modular Framing Value Added Expertise
Automation, Electro Mechanical, Panel Products, Safety Products
---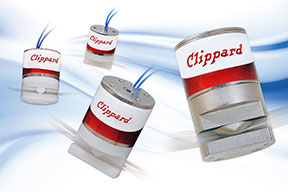 Download PDF (785 KB PDF)
New! 2-Way Miniature Pinch Valves
The Clippard NPV Series Pinch Valve is a solenoid-operated device that is designed to open and close tubes for controlling flow of liquids and gases. Other valve types have internal passages that may cause small amounts of fluid to remain in the valve. Pinch valves have no areas or dead volume where fluid can become trapped. Only the inside of the tubing contacts the fluid. Energizing the solenoid retracts or attracts the plunger, which opens or closes the tube. De-energizing the solenoid will allow the plunger to return to its original state.
Features:
Small, compact design
Hygienic and easy to clean (replace tubes)
Low power consumption
High cycle life
Can handle whole blood and particulate matter
Unobstructed flow path
Each valve comes with 12" of medical/laboratory grade silicone tubing, pre-installed
Variety of tubing sizes available
Tubing is easily replaceable
---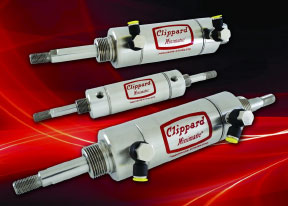 Clippard All Stainless Steel Cylinders
Designed for use in a broad range of applications including those in washdown and caustic environments, Clippard's cylinders are constructed of durable 303 stainless steel, and include a Nitrile rod wiper to keep potential contaminants from penetrating inside the cylinder. The cylinders are available with bore sizes from 3/4 to 2-in. Standard stroke lengths are from 1 up to 32-in. on some models.